Ye Dil Mera continues on a high note as the story continues to push forward as Amaan's plan moves ahead – and seems to unravel both at the same time.  In episode 20, Aina (Sajal Aly) is shocked when she realizes Amaan (Ahad Raza Mir) has not been at work since their wedding took place.  Of course, this is perplexing to her because Amaan has been going to work each morning and returning home in the evening – so where has he been going? 
Aina's rose colored glasses have finally been removed and she has begun to see Amaan for who he is, a man that she cannot trust.  Despite having screen time in this episode, Ahad Raza Mir and Sajal Aly take a backseat this time as the focus temporarily shifts to Saira.  However, it's great to see Sajal Aly shining as Aina grows a backbone and realizes her husband is hiding something.
Ahad Raza Mir as Amaan in Ye Dil Mera
Simultaneously, Ghauri (Farhan Ali Agha) visits Farooq (Adnan Siddiqui) and asks him to listen to his concerns as a friend.  He confides his suspicions regarding Amaan, wondering if Amaan has always had his sights set on Aina and used Ghauri as a stepping stool to her.  Farooq is shocked at this and one can see the wheels churning in his brain before he makes a phone call, inquiring about the property once owned by Amaan's family.
In Karachi, Saira (Rabia Butt) is overcome with worry at being sent away to America, alone and away from her family.  Despite Amaan's warnings, she retains her phone and calls him from the bathroom for which Amaan scolds her and tells her that he's not responsible for her safety now.  Saira angrily makes another phone call and in her distracted state, she walks out of the bathroom with her phone in hand.  Quickly backtracking, she puts the phone in a hiding spot, and worries if she's been seen on the cameras – but it's too late and Ali Baksh (Paras Masroor) begins to suspect.  He finds the phone and reports to Farooq, who puts in the order for her death.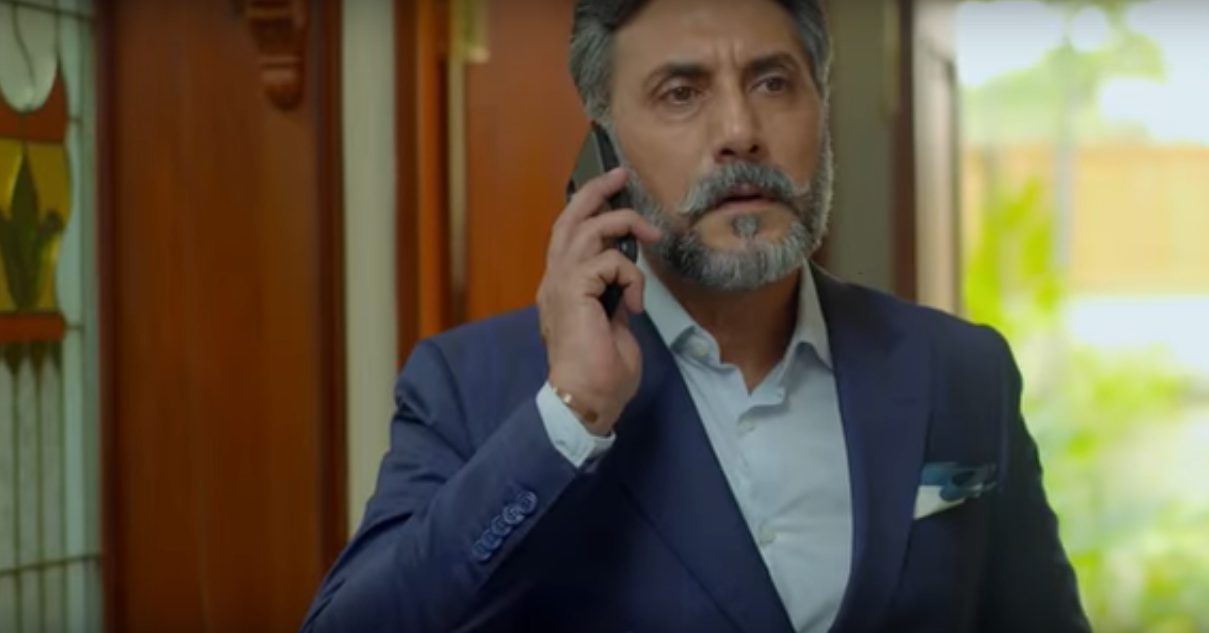 Adnan Siddiqui as Farooq in Ye Dil Mera
Mir Farooq continues to be a fascinating character due to the different shades in his character.  He is an evil man, a man who murders human beings based on his own feelings of betrayal.  He did not discover any great revelations regarding Saira's connection to Amaan – he simply did not like the idea of being lied to about the phone and that alone is a reason for Saira's death.  Adnan Siddiqui plays Farooq in a way that the viewer can never entirely figure him out.  In the scene between Ghauri and Farooq, he appears completely vulnerable, exposed and shocked when he discovers Amaan may not be who they thought and it becomes difficult to associate the murderous side with the side of a concerned father.  Ali Baksh is a loyal partner in crime, just as ruthless as Farooq and his murderous right hand man.  Paras Masroor is doing a great job, but one wishes Ali Baksh had a bit more of a back story.  Why is he so dedicated to Farooq and what skewed his moral compass this way?
The following episode promises to be interesting as Amaan finds out about Saira's death and Aina confronts him about his lies.
Episode Rating:  3.5/5
For all the latest Bollywood News and gossip, follow us on Twitter & Instagram, like us on Facebook and subscribe us on YouTube.

Credit: Source link