The price of electricity that will be bought from the Adani Godda power plant will be Tk 24.10 per unit
The logo of the Adani Group is seen on the facade of one of its buildings on the outskirts of Ahmedabad, India, April 13, 2021. Photo: Reuters
">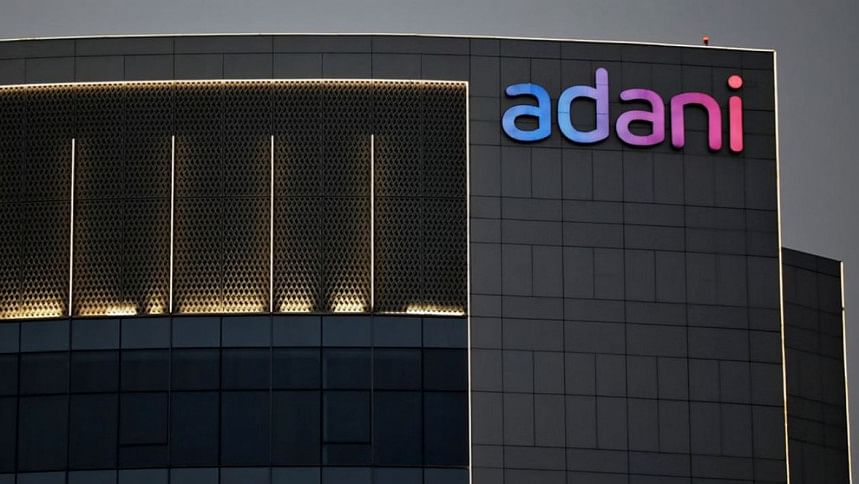 The logo of the Adani Group is seen on the facade of one of its buildings on the outskirts of Ahmedabad, India, April 13, 2021. Photo: Reuters
Jatiya Party MP Mujibul Haque Chunnu today asked why the government is purchasing electricity from India's Adani Group at a higher price.
The price of electricity that will be bought from the Adani Godda power plant will be Tk 24.10 per unit, he said while taking part in the thanksgiving motion on President Abdul Hamid's speech.
For all latest news, follow The Daily Star's Google News channel.
The government currently pays Tk 13.37 for per unit of electricity from the Payra power plant and Tk 18.39 from the S Alam power plant in Chattogram's Banshakhali.
"Why should we bring electricity from Adani Group at a higher price?"
The annual capacity charge for the Adani plant in India's Jharkhand is Tk 6,000 crore. It is Tk 3,000 crore for the Payra plant and Tk 5,000 crore for the S Alam plant.
The government should re-examine whether the deal, which was signed in November 2017, is in the interest of the people, Chunnu said.
He is surprised that there is so much criticism in India about Adani Group, which has set up a 1,600 MW power plant in its northeastern state of Jharkhand whose sole buyer would be the Bangladesh Power Development Board.
Chunnu also mentioned the government wresting control of fixing the power price.
"The power price hike was under the jurisdiction of the Bangladesh Energy Regulatory Commission. Now the state minister for power has taken it into his own hands."
The government increased the electricity price twice in January by 5 percent each time.
"There will be a price increase every month. If it is not at a tolerance level, there are doubts about whether people would be able to use electricity or not. We got electricity lines in villages."