In the month of June and going ahead, let's consider setting some snug goals while checking on some favourite shows, lounging on the couch, reminding yourselves how beautifully you can reconnect with your inner Daphne Bridgerton. It has been a treat watching JLo in Bennifer 2.0, her best come back ever in her usual sexy and stylist athleisure ensembles…….I'll admit, we all expected some clarification on her split with A-Rod, but who has time to mourn over the past? It has been made clear, now more than ever, that the meaning of life changes itself so quickly. Nevertheless, coming back to our scene of comfort on the couch, some of us are trying to brush up more on our baking skills with our favourite Jamie Olivier dropping some exquisite tricks and flavours on his YouTube Channel, some are keeping up with their live streaming workout or yoga sessions, some may be following it up by taking their pets for a walk, and some are working from home, getting on Zoom calls, or attending meetings online from their workstation. Whatever one may be doing, there are ways to dress up which may require the bare minimum of efforts, but they still, most definitely get you high in spirit by way of throwing together your favourite colours and some vibrant prints to boost your mood.

Swap your cotton pyjama for silk
To break the cycle of staying for long hours at home, by half-day, one should remember to opt for a sleek silk pyjama set since the scorching summer heat is calming down, with the onset of monsoon's magic. It's about time to get your silk sets out, and you can easily do your zoom meeting in your timeless silk tops, and to run quick errands outside, one can even wear a silk top with denims.
Yoga or no yoga
Live stream a yoga class in your living room area, or just opt for stretchy, comfy yoga apparel even if you aren't working out. It's all about the functional training tricks that are being easily performed through activities in our everyday life. Especially running through the kitchen tasks or working in the pantry emphasizes core strength and stability while lifting and stacking heavy containers.
Sweats tucked into home socks


Instead of tucking skinny jeans or leggings into boots, take the cozy route by tucking your sweats into light and soothing skin socks. Throw a funky hoodie or a baggie crop top on and flaunt your casual clothing around the time of your zoom parties. Loose sweats will be the uber-cool outfit idea to read or do some indoor gardening as well.
Get boyfriend jeans or pull your ripped rugged comfort out
If you are saving one of those boyfriend jeans or comfortable rugged pair of casual denims for outdoors, but want to get into them ASAP, soothe that itch to ease by feeling some type of normality. Wear a relaxed pair around the house with a soft tank top or a sleeveless tee. Catch up on all your online meetings, or even cozy up with loved ones online.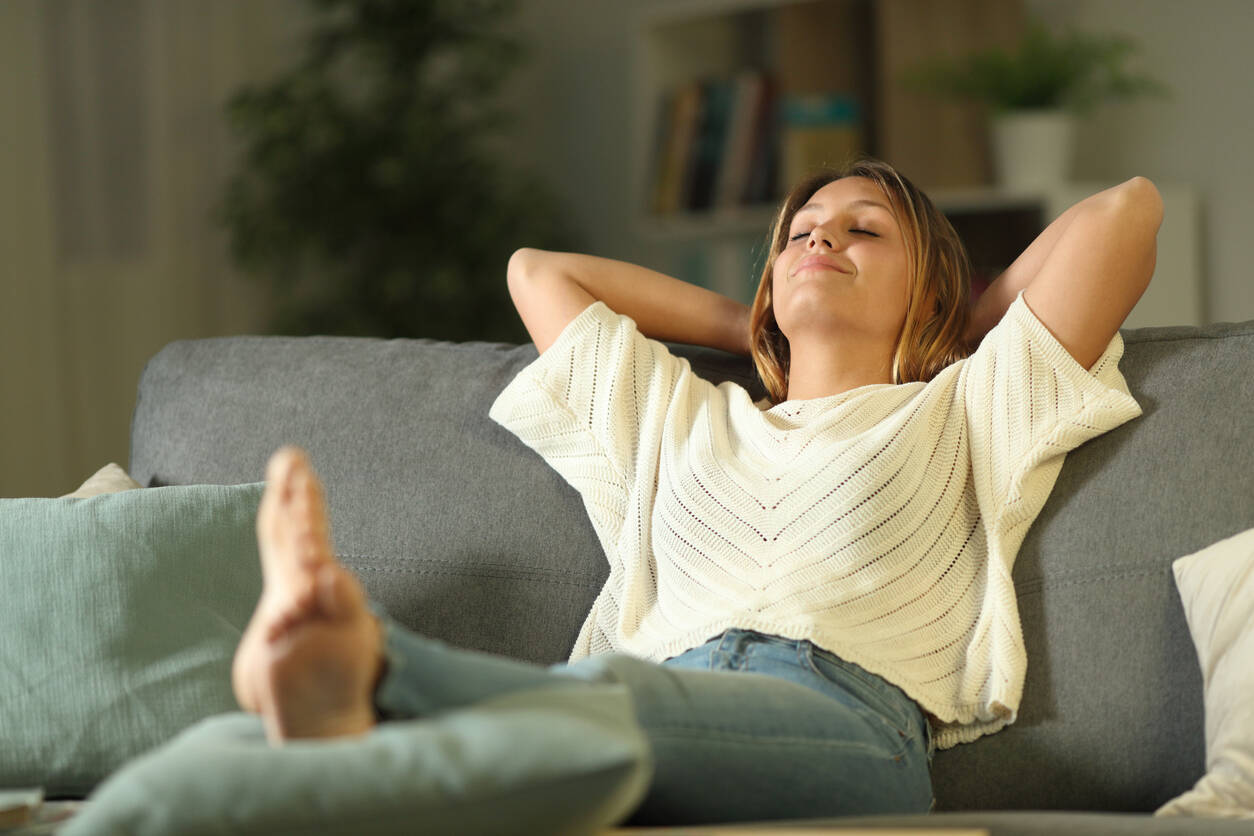 Play with neutrals


No one can beat the neutral game of Kim Kardashians just like her new range of 'Skims' innerwear. Incorporate different neutral hues of cotton, khadi, and jersey to elevate your relaxed look, and compose any cohesive outfit that makes you feel closer to your very own skin tone. Experts say that every skin tone has a complementing shade of neutral to make it more classy and subtle. You need to pick your kind of neutral palette to mix and wear.
Cardigan comfort like no other


A cardigan is like a layer of approval on anything you wish to lounge in. Swap out more feminine tones for a mood you wish to highlight whether it's a pop of colour or solidarity of earthy and grey. It's definitely a mood booster for indoor gameplay. Match your cardigan with cute socks while
you're at it. A board game with the family or wine session in the evening while watching your favourite movies is the perfect backdrop for this attire.
Wear a dress
If you're craving a chance to dress up a bit or play a part to imitate Julia Child's cooking techniques, choose a knit maxi-style dress, preferably with floral or cute, small prints to enhance the persona of that housewife who can cook and be pretty at the same time. You don't sacrifice comfort for style, and attending kitty parties online will keep you looking as sophisticated as a woman can be.
Biker shorts are back, baby


If you ever get a chance to sit out in the sun on the rare cloudy days of this rainy month, pull out your biker shorts, and pick up on a cycle ride with a friend. Invoke that adventurous feeling and you will easily be able to dress your shorts with trendy puff sleeves, or a one-shoulder top, or a loose crop blouse. Get up early in the morning, and carry the sporty style. Keeping it minimalistic will also do the trick, slipping into a cool sports bra and biker shorts.
A woman is never sexier than when she is comfortable in her clothes. – Vera Wang


Getting rid of your heels, and getting into your comfy socks at the end of the day used to be the thing you looked forward to when you had a long tiring day. Now it is pretty much the life we all are living since most of the
parties on our calendar are via Zoom for the time being. Comfort is the priority from head to toe even when we dress up at home. The quarantine life which had started with the assumption of lasting for a short while has shifted to the belief of sinking in for a long time ahead. To keep the same lively spirit going, one has to get pampered with plenty of cozy, quirky, and comfortable outfits to wear at home. Let's add some spice to designing our comfortable home wear so that we are not left wearing the same things over and over for many more days to go.