Humans of Bombay, a social media handle that documents different individuals' stories of struggle and triumphs, has deleted a post featuring actor Sanjana Sanghi and her domestic workers. The page faced a severe backlash for Sanjana's post where she spoke about how she has been helping her domestic staff during the pandemic and also got them vaccinated. She also spoke about how her staff was very helpful to her during the pandemic, and now she is returning the favour. This piece with Sanjana was reportedly a promoted collaboration with a beer brand.
Just hours after the HOB post went live on their social media platforms, Diet Sabya called out the post, highlighting how HOB and Sanjana have ended up using her three domestic workers as props to improve her own image. Diet Sabya is a sharp-tongued anonymous Instagram account dedicated to exposing imitations or appropriations, even blatant copies, in fashion.
Humans of Bombay post featuring actor Sanjana Sanghi's story. (Photos: Humans of Bombay/Instagram)
As Diet Sabya put out the story about Sanjana's post, many Instagram users started reacting and demanded that the HOB post should be taken down as it appeared to use Sanjana's domestic staff to earn praise for her.
Diet Sabya, while calling out the actor on their Instagram stories, wrote, "'Help' suggests that they are doing charity/pro-bono work out of the kindness of their heart.'Workers' suggests that they are getting paid for their service. They deserve all rights that any employee would get."
Here's how netizens reacted to Diet Sabya's post: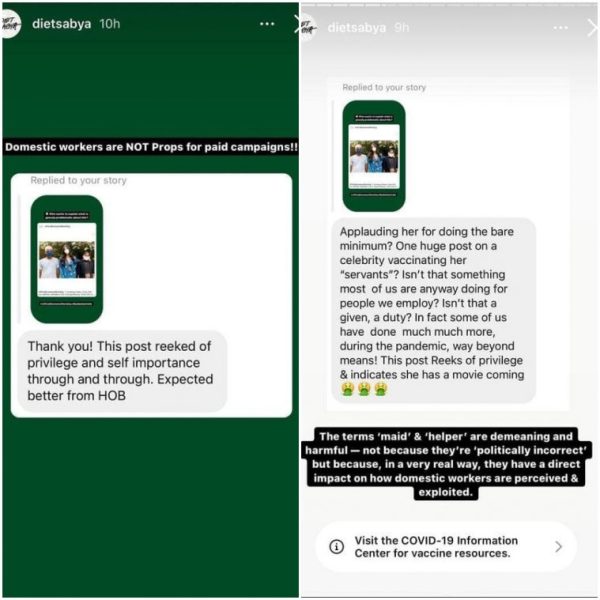 Diet Sabya calls out Sanjana Sanghi for using politically incorrect to address her domestic staff. (Photos: Diet Sabya/screenshot/Instagram stories)
Many also reacted by saying, "This post reeked of privilege and self importance through and through." Some also felt that Sanjana's domestic workers didn't get anything out of their faces being shown all over the internet, whereas Sanjana got more praise and apparently got paid for telling the story too."
After the backlash that the Humans of Bombay received on featuring Sanjana Sanghi's story, the platform has now taken down the story. An official statement from the actor is awaited.
On the work front, Sanaja was last seen sharing screen space with late actor Sushant Singh Rajput in Mukesh Chhabra's 2020 film, Dil Bechara. Her next film is Kapil Verma's Om: The Battle Within, also starring Aditya Roy Kapur.