Turkey's vice president, Fuat Oktay, said the total number of deaths in Turkey had risen to 3,419, with another 20,534 people injured. That brought the number of people killed to 5,102, with another 1,602 people confirmed dead on the Syrian side of the border.
The earthquake struck early on Monday, bringing down thousands of buildings. Rescuers were racing frantically to find more survivors but their efforts were being impeded by temperatures below freezing and some 200 aftershocks, which made the search through unstable structures perilous.
Nurgul Atay told the Associated Press she could hear her mother's voice beneath the rubble of a collapsed building in the city of Antakya, the capital of Hatay province, but that her and others efforts to get into the ruins had been futile without any rescue crews and heavy equipment to help.
"If only we could lift the concrete slab we'd be able to reach her," she said. "My mother is 70 years old, she won't be able to withstand this for long."
Across Hatay province, just southwest of the earthquake's epicentre, officials say as many as 1,500 buildings were destroyed and many people reported relatives being trapped under the rubble with no aid or rescue teams arriving.
In areas where teams worked, occasional cheers broke out through the night as survivors were brought out of the rubble.
The quake, which was centred in Turkey's south-eastern province of Kahramanmaras, sent residents of Damascus and Beirut rushing into the street and was felt as far away as Cairo.
The medical aid organisation Doctors Without Borders confirmed on Tuesday that one of its staff members was among the dead after his house in Syria's Idlib province collapsed, and that others had lost family members.
"We are very shocked and saddened by the impact of this disaster on the thousands of people touched by it, including our colleagues and their families," said Sebastien Gay, the group's head of mission in Syria.
Mr Gay said health facilities in northern Syria were overwhelmed with medical personnel working around "around the clock to respond to the huge numbers of wounded."
In Turkey's Hatay province, thousands of people sheltered in sports centres or fair halls, while others spent the night outside, huddled in blankets around fires.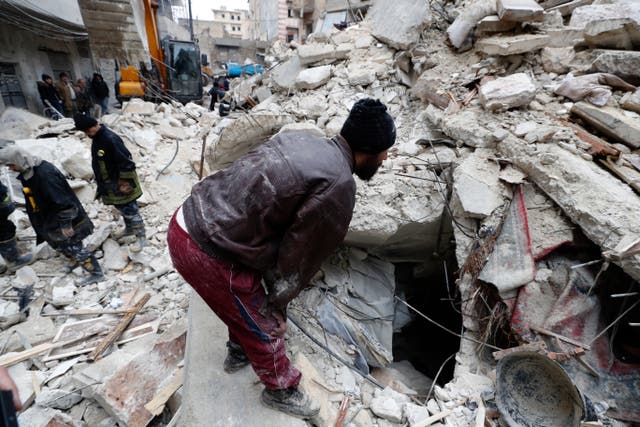 Turkey has large numbers of troops in the border region with Syria and has tasked the military to aid in the rescue efforts, including setting up tents for the homeless and a field hospital in Hatay province.
Defence Minister Hulusi Akar said a humanitarian aid brigade based in Ankara and eight military search and rescue teams had also been deployed.
A navy ship docked on Tuesday at the province's port of Iskenderun, where a hospital collapsed, to transport survivors in need of medical care to the nearby city of Mersin.
Thick, black smoke rose from another area of the port, where firefighters have not yet been able to douse a fire that broke out among shipping containers that were toppled by the earthquake.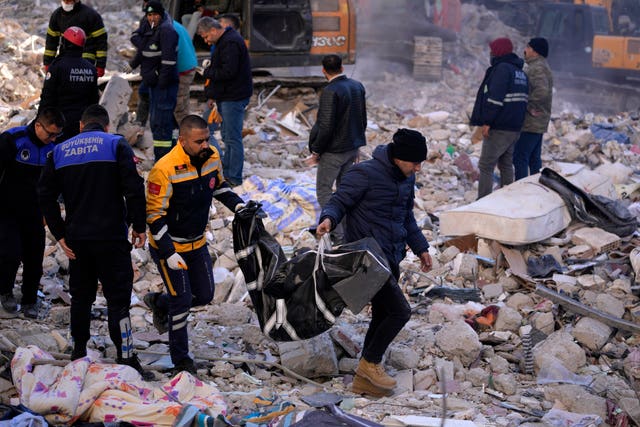 In the Turkish city of Gaziantep, a provincial capital about 20 miles from the epicentre, people took refuge in shopping malls, stadiums, mosques and community centres.
At least 3,381 people were killed in 10 Turkish provinces, with more than 20,000 injured, according to the latest figures from Turkish authorities on Tuesday.
The death toll in government-held areas of Syria climbed to 769 people, with some 1,450 injured, according to the Health Ministry. In the country's rebel-held northwest, groups that operate there said at least 450 people died, with many hundreds injured. Turkish President Recep Tayyip Erdogan declared seven days of national mourning.
Authorities fear the death toll will keep climbing as the rescuers look for survivors among tangles of metal and concrete spread across the region beset by Syria's 12-year civil war and refugee crisis.