Motherhood is difficult.  Parenting is difficult.  Whether one is a full-time mom or playing a balancing act between a profession and being there for the kids, the desire to be a supermom is ever present.  This is the premise of Mentalhood, showing what women (and men) go through parenting and raising their children.  Produced by Ekta Kapoor, the show is directed by Karishma Kohli and stars Karisma Kapoor, Shruti Seth, Dino Morea, Shilpa Shukla, Shandya Mridul, Sanjay Suri and Tillotama Shome in leading roles.  The initial release of the show put out four episodes with six more to follow, ending the season at ten episodes.
In the large group of characters, Meira (Karisma Kapoor) is our central focus.  An endearing, sweet, but outgoing woman, Meira has moved her family from Kanpur to Mumbai in order to live a life free from her mother-in-law and overbearing mother.  A model by profession, she also writes a "Mom blog" where she shares her thoughts on parenting and her own successes and failures – a blog which gathers a lot of attention as the episodes progress.  Karisma Kapoor immediately makes the viewer realize how missed Karisma has been on-screen as she carries a natural, quirky aura to her character.  Karisma is the life of this show.  Sanjay Suri plays Meira's husband and while Meira is in a permanent state of "frazzled," he is the opposite, always calming her down and prying her phone out of her hands.  While Sanjay's role up until episode 4 is more of a side character, his role appears to be taking off now and he's a joy to watch as always.
Meira encounters a group of ladies at her children's school.  There is Namrata (Shilpa Shukla), a confident businesswoman who struggles with parenting alongside her busy schedule.  There's Dikha (Shruti Seth), a single mother who works as a yoga instructor as a living, always worried about how her daughter is being raised without a father.  There's Ajo (Sandhya Mridul), a supermom who manages and controls every aspect of her children's lives and focuses all her energy on making her life look "perfect" despite it all being an act. 
Then there's Preity (Tillotama Shome), a woman who is modern and confident on the outlook and a good mother, but is married into a life of misogyny and disrespect at home.  All these women perform extremely well despite their characters being molded into a box and almost being restricted to that box alone.  In episode 3, viewers finally see the ladies letting loose and dumping the labels their characters perpetually have stamped on their foreheads, but as the night ends and the next day arrives, those labels get slapped right back on.  If there's a critique here, it's that single mothers don't carry the single mother tag every second and every moment of their existence nor do working moms consistently discuss their failures at home.  This needs to be more balanced – and hopefully that will happen in upcoming episodes.
As Meira expand her circle and makes friends, she befriends Akash (Dino Morea), a single father with a daughter.  Dino Morea does a good job of making Akash likable and also portrays a role that highlights the plight of fathers without female support.  That being said, Mentalhood certainly does make one thing clear – parenting is for mothers.  Despite its attempt to include the single dad character with Dino Morea's Akash, his character is put to use in the most cliched way – he's used to make Meira's husband jealous.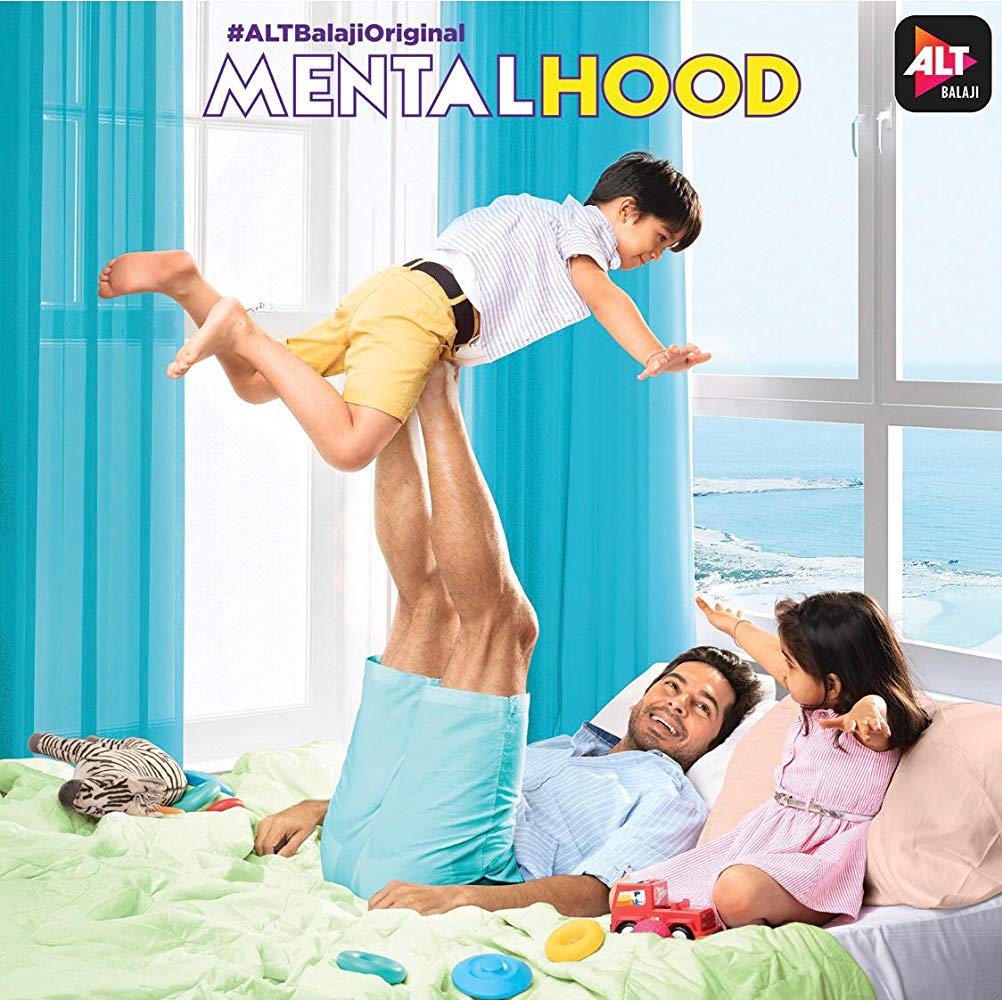 In this day and age, a common argument is that of the working mom versus the stay-at-home mom and that fight is presented here in a battle between childhood friends AJo and Namrata, the two ladies bickering over who is the better mom, who has the more stressful life, who has achieved more, who is doing more for the greater good of society and so forth.  This is an interesting angle.  Each of the characters are presented with a shade of grey and not one is a "perfect mother."  From a bitter divorce, jealousy, incompatibility and the past coming back to haunt, all these ladies have problems of their own that they keep buried deep inside – and these problems affect their psyche and their parenting style.  
Mentalhood isn't a perfect show.  It's flawed and is a show that one shouldn't take too seriously as it's full of the usual clichés and does tend to suffer from trying to be too "cool."  There are moments where Meira is seen spouting advice in her dialogue, talking about how insane life is, complete with curses, and one is left wondering "What is so stressful about Meira's life?"  Many scenarios are exaggerated like this, which can come across as trying too hard.  But again, this is a show where the viewer can both turn their brain off and enjoy it while also being able to connect emotionally to the characters and their life situations.  Overall, Mentalhood is a fun, breezy watch that hits the nail on the head regarding some aspects of life, marriage and parenting.
For all the latest Bollywood News and gossip, follow us on Twitter & Instagram, like us on Facebook and subscribe us on YouTube.

Credit: Source link