With more individuals beginning to embrace cats and dogs as companions, pet care has become a booming business. The industry makes sales of about Tk 200 crore annually in Bangladesh, with the market growing more than 20 percent every year. Photo: Nafisa Islam
">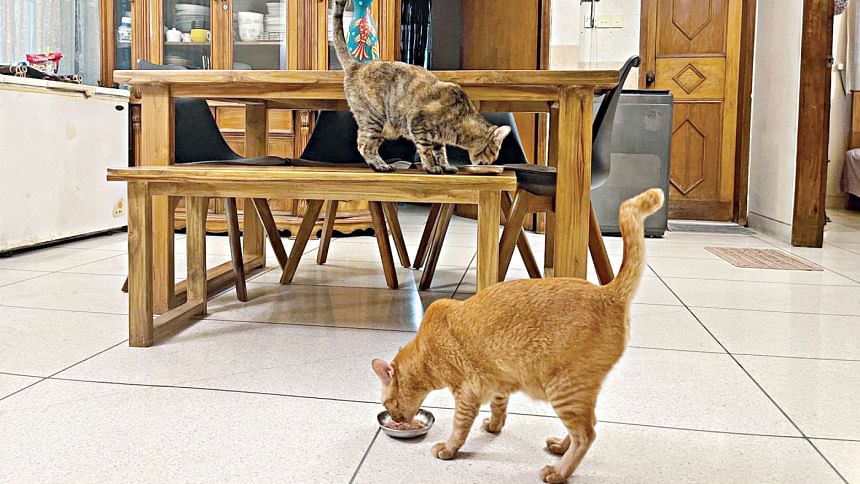 With more individuals beginning to embrace cats and dogs as companions, pet care has become a booming business. The industry makes sales of about Tk 200 crore annually in Bangladesh, with the market growing more than 20 percent every year. Photo: Nafisa Islam
A rise in the number of people who welcome pets into their homes and trends such as a humanisation of pets and ethical pet ownership have led to a boom in demand for pet food and related accessories.
Pet humanisation reflects a person's mindset to treat the animals like members of the family, with owners now often attempting to provide animals with standards of living in tune with their own. That, combined with changing lifestyles and a spike in disposable income, has meant more demand for pet care products than ever before.
For all latest news, follow The Daily Star's Google News channel.
Nafisa Islam, whose house features a litter box, food bowls and a cat tree, is an individual with such a mindset.
"I need to spend more than Tk 3,000 per month to care for both of my cats, not including medical expenses."
Sakib Khan, who owns a dog, says it costs him Tk 5,000 per month.
A retailer sells varieties of foods for birds at a store in Khulna city. Photo: Habibur Rahman
">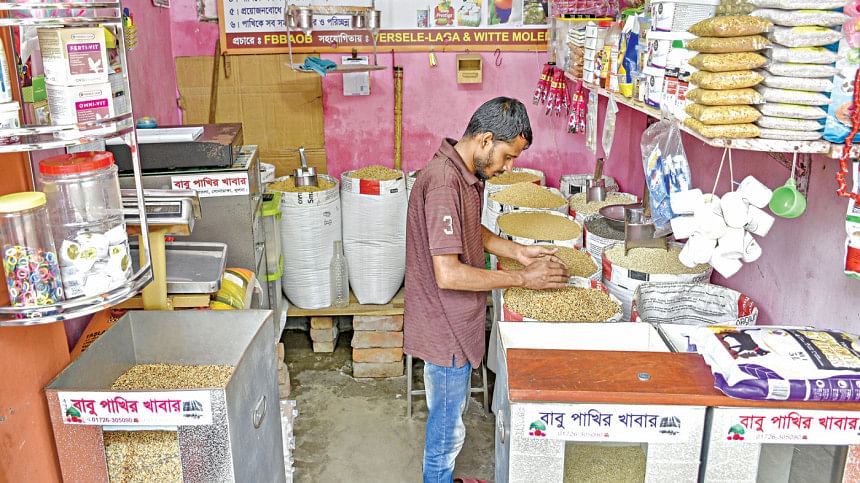 A retailer sells varieties of foods for birds at a store in Khulna city. Photo: Habibur Rahman
Prosun Chowdhury, who works for an international organisation in Dhaka, has a dog as his companion in his house in the capital's Lalmatia.
The trio are among a growing number of owners in Bangladesh who see pets such as cats, dogs, rabbits, and birds as an important member of their families.   
Besides, there has been a sudden rise in independent rescuers and adopters across the capital since animal rights organisations began raising awareness and conducting rescue-and-spay operations around a decade ago.
And the trends have contributed to the growth of a market selling pet foods and accessories, among other things.
Zubair Mahmud, owner of Pet Zone BD, a shop that sells pet foods and accessories online and through a physical store, said the demand for pet food, accessories and medicines has risen, especially after the Covid-19 lockdown period.
In 2019, the sales of food and accessories amounted to Tk 10 lakh per month. It has surged to Tk 20-30 lakh this year.
Before the pandemic, Pet Zone BD catered to a client base of about 2 lakh. Now, he has around 6 lakh customers.
Business people say food and pet grooming products worth about Tk 200 crore are now sold annually in Bangladesh, with the market growing at more than 20 percent every year.
Food, accessories and medicines are all imported.
The pet food market is projected to grow 9.52 percent to $308.5 million in 2028, according to Statista, a German market research firm.
Samsudduha Riyad, chief executive officer of Mew Mew Shop BD, said he and his friend started the business in 2017 to manage pocket money. When they saw that the market was growing, they began to run the business more professionally.
"If we compare the current monthly sales situation with the time when we started, sales have increased 10-fold," he said.
Abdur Razzak Chowdhury, owner of Poshaprani.com, says cat food, litter and toys are on the list of the online shop's top-selling products.
Sales have increased 70-80 percent compared to 2017, he said.
3S Impex, one of the leading pet food and accessories importers in the country, used to sell food and accessories worth around Tk 50,000 a month when the business was launched in 2000. Now the sales have surged to around Tk 2 crore, said its CEO Mohammad Habibur Rahman.
He says although pet care is growing gradually, it is being done in an unorganised way.