Justin Trudeau, the Canadian Prime Minister's wife Sophie Grégoire Trudeau has been tested positive with Coronavirus. She had recently returned from a speaking event in the UK and was feeling unwell. Despite not being diagnosed with Coronavirus at that time, Sophie Grégoire Trudeau and husband Justin Trudeau decided to go for a self-quarantine.
However, Justin Trudeau the 23rd Prime Minister of Canada has not shown any symptoms of Coronavirus and is in self-isolation for purely preventive purposes. According to the statement released by the Prime Minister Office, 'The Prime Minister is in good health with no symptoms. As a precautionary measure and following the advice of doctors, he will be in isolation for a planned period of 14 days. Also on the advice of doctors, he will not be tested at this stage since he has no symptoms. For the same reason, doctors say there is no risk to those who have been in contact with him recently.'
All those who had been in contact with Sophie Grégoire Trudeau shall be tested.
Earlier, Justin Trudeau had tweeted to share the news of his and wife's self-quarantine. However, by that time Sophie Grégoire Trudeau had only been tested for Coronavirus and nothing was confirmed. He wrote, 'I have some personal news to share today. Sophie recently returned from a speaking event in the UK, and last night she was experiencing mild flu-like symptoms. She's feeling better, but following the advice of our doctor she is self-isolating as we wait on COVID-19 test results.'
'Out of an abundance of caution, I too will be self-isolating & self-monitoring until we get Sophie's results back. But I'll be busy working from home. Today, I'll be speaking with some world leaders and joining ministers for a Cabinet committee discussion on COVID-19.'

Justin Trudeau will continue working from home and hold the necessary meetings on phone as he said,
'I was looking forward to sitting down with premiers and Indigenous leaders later today, but given the circumstances we'll be postponing our meeting. In the meantime, we'll speak on the phone about how we can mitigate the spread and impact of COVID-19 and keep Canadians safe.'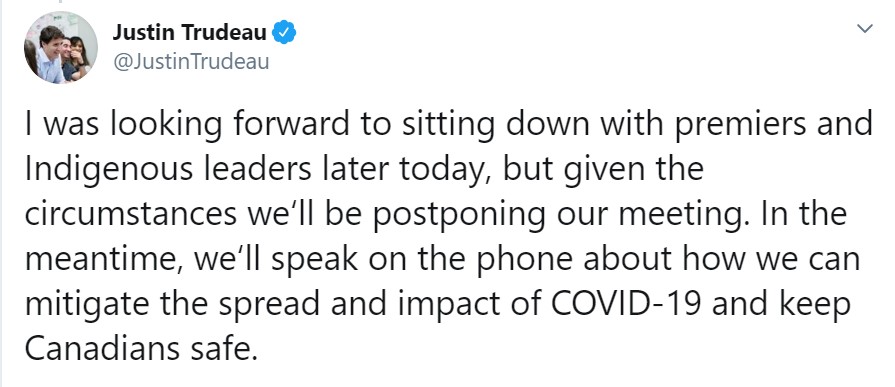 Sophie Grégoire Trudeau is a former television host and is involved in charity work and public speaking focussing on women and children's issues. She was recently in London to attend a WE Day gathering with her daughter, Ella-Grace, and her mother-in-law, Margaret Trudeau, on March 4. She was on a panel with the former Australian Prime Minister Julia Gillard to shed her views on 'educating and empowering girls and women.' The event was attended by 13,000 people including the celebrities Jamie Oliver, Idris Elba, Leona Lewis, and Lewis Hamilton at Wembley Arena.
For all the latest Bollywood News and gossip, follow us on Twitter & Instagram, like us on Facebook and subscribe us on YouTube.

Credit: Source link