From spending his childhood days in Muradnagar to becoming one of India's most successful international cricketers, Suresh Raina is a truly inspiring enigma for many of his fans. And Raina is all set to share his story in his memoir 'Believe: What Life and Cricket Taught Me' which will hit the stands on June 14. From being bullied at cricket camps, to the lessons he learnt through the sport, to the friendships he built both on and off the field, to marriage and fatherhood– Raina opens up about his life in his candid memoir 'Believe: What Life and Cricket Taught Me'. The book is published by Penguin Random House India and is co-authored by cricket writer Bharat Sundaresan.
In an exclusive interview, Suresh Raina talks about his memoir 'Believe', cricket, fatherhood, his favourite books and more. Excerpts:
1. How did you come up with the idea of writing your memoir and telling your story?
I have always believed that hardwork and determination can take you places and the word Believe is what always kept me going. So (through this book) I thought of telling everyone to be consistent in your approach and keep working hard towards your goal, because nothing is impossible.

2. In the book, you have mentioned how Sachin Tendulkar has been your inspiration. Tell us an incident regarding Sachin that changed your life?
Sachin Paaji inspired me in life when I was not very confident about myself. One fine day he told me to just believe in myself and things will fall in place; since then I have taken this word very close to my heart.

(Photo: Suresh Raina/ Instagram)
3. Yours is a truly inspiring story for many people. But when one reads this book, you come across as a very humble person. What keeps you grounded?
Everyone thinks that the life of a celebrity is all glam. But what really goes behind is sheer determination to reach your highest level. I have myself faced all the ups and downs in life and hence this has always kept me grounded.
4. In the book, you have vividly recalled the day when you proposed marriage to your now-wife Priyanka and how it gave you the jitters. How has your partnership with Priyanka evolved over the years?
I still can't forget the time when Priyanka came into my life and it has been one of the best decisions to marry her. Priyanka has been an absolute rock to me; she has stood by my side no matter what. I am in awe of how she manages her professional life and personal life, especially the kids. Our bond just gets stronger with each passing day.
5. With Gracia and Rio in your life, how do you think fatherhood has changed you as a person?
Gracia and Rio have been the greatest blessings in my life. Each day spent with them inspires me to become better in anything that I do. Becoming a father has made me much more responsible. I want to experience the same childhood with them, since I was away from my parents during the hostel years.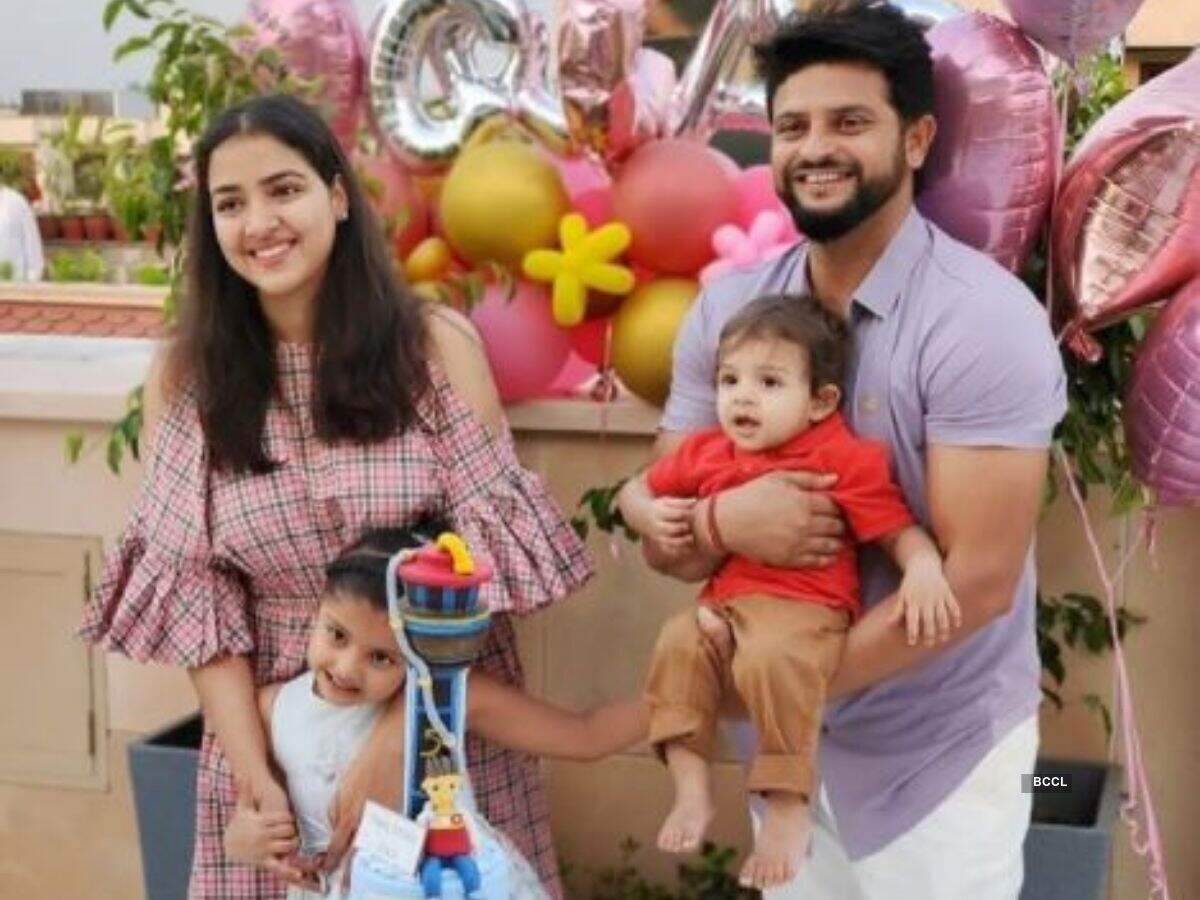 (Photo: Suresh Raina/ Instagram)
6. In the book you say "Parenthood starts changing your perspective towards the sport as well". Please elaborate…
I feel parenting brings a lot of responsibility and you start to think of the impact on your kids in whatever you do. Be it personally or professionally, it would be natural for one to think to work in a manner that our children will be proud of us.
7. In an earlier interview you revealed that you are planning to do some sports-related charity work in Jammu and Kashmir. Tell us more about it…
I believe the youth of our nation need a platform to work on their talent and develop their skills. I thought of giving them such a platform by working towards the betterment of sports for Jammu and Kashmir's youth. Although the work had started, it has been put on hold because of the current situation; I am in discussion with the concerned authorities.
Rapid fire questions:

One quote you live by: 'Just believe in yourself' is what I swear by and it has always helped me be a better version of myself.

One thing you discovered about yourself during the lockdown: I loved to cook but never really got much time to do so, but lockdown has definitely given me enough time to work on my hobby.

Your favourite books of all time: Steve Waugh's 'Out of My Comfort Zone', this book was given to me by him. Also, 'The Dhoni Touch'.