There are so many people in this country who would love to be actors yet they have no idea where to start from. Many of the top Pakistani actresses did not plan to start a career in showbiz and there are others who always knew that they wanted to an actress. It is definitely impressive how far these actresses have come after years of hard work. Even though they have no relatives in the industry who could have helped them out, they were lucky enough to get some good mentors. Entering the showbiz industry is not easy nowadays since there is so much competition but it is even more difficult to retain a reputable position in the industry. That obviously entails talent, hard work and dedication.
Here is how the top Pakistani actresses started their showbiz journey.
Saba Qamar
Saba Qamar landed in the field of acting purely by chance. She went with her mother's friend to watch the shooting of a Pakistan Day special drama. As it turned out, the heroine failed to make it to the shooting. That is when the director asked her to perform the leading role. Saba read the lines given to her and was surprised that performing came effortlessly to her. Everyone in the room clapped when she delivered her first few dialogues and gradually she realized that this is what she was meant to do. She belongs to a Syed family in which it was strictly forbidden for girls to work in showbiz. When she decided to take this step, she faced a lot of opposition from her family. She started working in 2004 and she made sure that she proved to everyone that showbiz was a decent profession.
Mahira Khan
Mahira Khan started her showbiz career as a VJ when she was offered the chance to do so while she was still attending college. Mahira always wanted to be an actor but she was not offered an acting project at the beginning of her career. When she got her big break even then she did not realize just how demanding acting was. She was blessed with some great mentors and with a lot of hard work she managed to make it big in the industry.
Hania Aamir
Hania Aamir is the most sought-after actress in Pakistan right now. She was never even planning to start a career in showbiz when she got a call to do a supporting role in the film Janaan. Hania was discovered through tik tok and once she started acting she realized it came so naturally to her. When she performed for the first time, the portrayal came so effortlessly, and later on, she got so many other offers for dramas and films that she could not say no to such wonderful opportunities. Hania has definitely been really lucky in this regard and she has obviously worked hard to get where she is today. She enjoys her work and even though she never realized it, she was definitely born to be an actor.
Kinza Hashmi
Kinza Hashmi is also one of those young actresses who started her career in showbiz when she was only 16 years old. She always wanted to be a singer and never thought that she will end up being an actress someday. She was discovered by a director when she was walking on the ramp and even then she was really sure that she couldn't act. Once she started acting, she came across such mentors who taught her so much, and now she enjoys acting so much that sometimes she stays on the set long after her work is done.
Ayeza Khan
Ayeza Khan was a tomboy while growing up but once she started realizing that she was a girl who could dress up and pose for the camera, her personality changed altogether. As a child, she was on the cover of one of the most popular children's magazine at the time. When she was in 8th grade she participated in a beauty contest, Akif Illyas did her makeover at that time and told her she looked like the actress Reema. This was the first time that Ayeza got professional make-up done and was in the limelight. Her actual career in showbiz started in 2007 when she was given the opportunity to star in a television commercial next to Reema Khan, someone she had always idealized. That is where the journey started and Ayeza Khan made sure she worked hard from there on that is why she got this far.
Yumna Zaidi
Yumna Zaidi is recognized as one of the most versatile and powerful actresses of the Pakistani drama industry. The story of how she entered the industry and how she made it this far is really interesting. Affan Waheed was her older sister's class fellow, he was the one who played a pivotal role in giving Yumna her big break. It was eventually Yumna's persistence and talent which made her so successful in the field. She had never imagined that she would be so successful but she is also proud of the fact that viewers love her performance and not her look or glamour.
Iqra Aziz
Iqra Aziz has managed to make her presence felt in a short span of time. She was always fond of putting on make-up and putting up a show for her a family. Initially, she started her career with a television commercial. Although she was really eager to work in showbiz when she reached the sets of her first project she experienced stage fright and she thought she won't be able to do it. Her older sister was a big support for her, she was the one who bucked her up and gave her the confidence she needed to carry on.
Mehwish Hayat
Mehwish Hayat started her journey in showbiz when she was only 8 years old. Her mother was a well-known drama actor at the time and she was the one who introduced her daughter to the world of showbiz. In an emotional post, Mehwish Hayat summed up her journey and acknowledged the efforts made by her mother. Her mother gave up her own career to further Mehwish's career in showbiz. Since then, Mehwish Hayat has surely worked really hard to make such a big name for herself.
Kubra Khan
Kubra Khan actually started her career as a model from London where she was based. She got her first major break when she was asked to play a role in one of the most hit Pakistani films Na Maloom Afraad. She was a really good friend of Fatima Khan (Ahmed Ali Butt's wife) who played a major role in helping Kubra make up her mind to work in Pakistan. After Kubra made her first appearance she got so many good offers that she just couldn't refuse them and there was no looking back after that.
Sajal Aly
Sajal Aly is one of the biggest stars of the Pakistani drama industry yet she is also one of those actors who never really ventured into the showbiz industry because she was passionate about acting. Sajal revealed in an interview with Dawn that after her father left and got married to someone else, her mother was not able to run the finances and that is when she decided to work as a brand promotions agent in a mall. She auditioned for acting only because she was in dire need of a job and she wasn't even accepted the first time! Who would have known that one day this young girl whose sole purpose was to support her family financially will end up being such a big star? Here are some excerpts from her interview.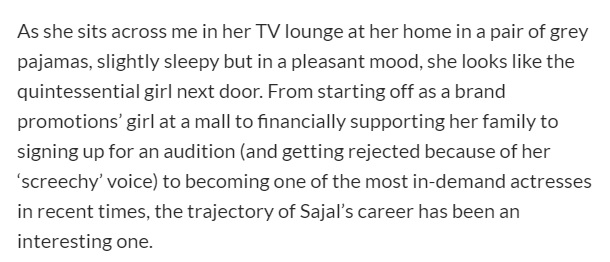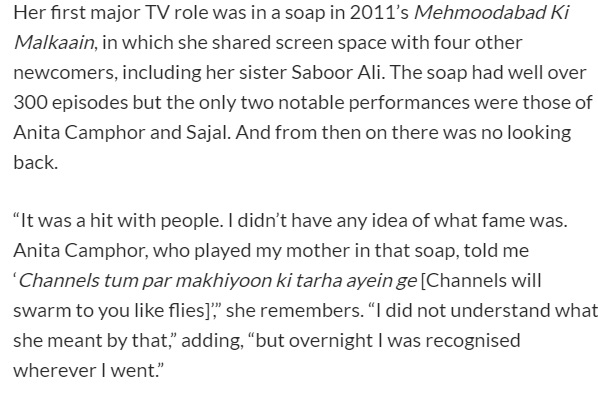 Alizeh Shah
Alizeh Shah is one of the youngest Pakistani actresses yet it has been many years since she stepped into showbiz. She was only 6 years old when she did her first commercial and when she a little older, she decided she wanted to act as well. Getting permission from her parents was never an issue and her mother always accompanied her wherever she went for shooting.
Sarah Khan
Sarah Khan is another Pakistani actress who is liked by many. Like many other actresses on this list, she also did not have to struggle very hard to get her big break. Sarah Khan used to do voiceovers for television when the HUM team spotted her and cast her in the project Bari Apa. After that, she took a break for two years since she thought it required a lot of patience. Later on, however, she realized that this is what she really wanted to do.
Hira Mani
Hira Mani is one of those few actresses who entered the showbiz industry after having her children. She was offered a great opportunity to host the morning show by HUM but she left it because her son was too young. After both her children were slightly older, she decided to sign her first drama. Hira Mani rightly considers the only actress who joined the industry after having two kids and managed to make it big in it. She also gives her husband a lot of credit for supporting her throughout.
Aiman Khan & Minal Khan
Aiman Khan & Minal Khan started their showbiz careers at the same time. Their first project together was a television commercial and they went on to do commercials together. They also started working in dramas once they were a little older. Minal Khan was the first one to get an acting project and later on Aiman Khan too got many acting projects.
For Aiman and Minal being in the limelight came naturally since they started at a young age. They always had the support of their parents.