Authorities have shut some government offices in Hong Kong's financial district after the worst violence the city has seen in decades.
By Thursday morning the crowds had largely dispersed around government headquarters – where police and protesters had pitched battles on Wednesday.
The protesters are angry about plans to allow extradition to mainland China.
Despite the widespread opposition, the government has not backed down.
However, Hong Kong's Legislative Council (LegCo) delayed a second reading of the controversial extradition bill and it is unclear when it will take place.
How did the violence unfold?
The second reading, or debate over the extradition bill was originally scheduled for Wednesday.
In an attempt to prevent lawmakers from participating in the debate, activists in the tens of thousands blockaded key streets around the government headquarters in central Hong Kong. Police were also out in riot gear.
Later the tensions boiled over as protesters tried to storm key government buildings demanding the bill be scrapped.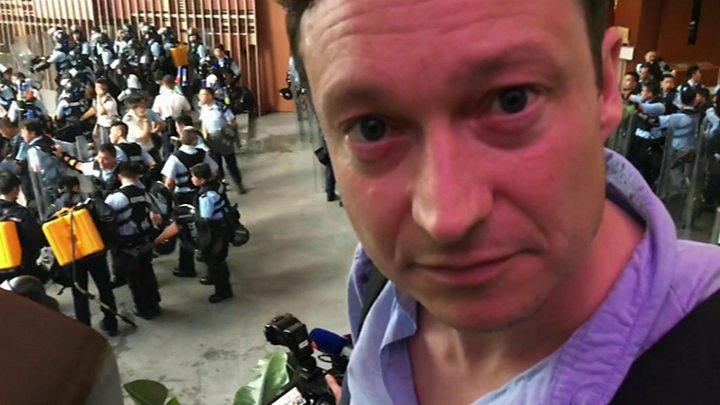 Police responded by firing tear gas and rubber bullets to block them and get them to disperse. After hours of chaos, the crowd eventually dissipated overnight.
Rights group Human Rights Watch accused the police of using "excessive force" against protesters.
Seventy-two people aged between 15 and 66 were injured in the violence, including two men who were in critical condition.
After the violence on Wednesday, Hong Kong leader Carrie Lam, in a tearful address, called the protests "organised riots", and dismissed accusations that she had "sold out" Hong Kong.
Only a handful of protesters remained in the central business district in the city on Thursday morning, though some roads and a downtown shopping mall still remain closed, said local broadcaster RTHK.
Hong Kong's train operator, the MTR, said that Admiralty station – the station at the heart of the protest zone – would remain closed today following a police request.
The protesters are expected to return, however, when the second reading of the controversial bill eventually takes place, our correspondents say.
What we learned about Hong Kong's youth
By Martin Yip, BBC News Chinese, Hong Kong
The morning after the most violent protests Hong Kong has seen in decades, the scene outside the Legislative Council complex is quiet.
Debris is strewn about the roads – umbrellas, surgical masks – the aftermath of a serious confrontation.
Areas are still being cordoned off by police in riot gear, but there are no signs of protesters returning.
There is one elderly man shouting at police – he might seem like a lone voice, but anger against the police use of force is widespread.
As things stand, there is no fixed date for the reading of the extradition bill, although we'd expect that to happen next week.
Many members of the public, and the government, will feel a sense of shock.
They all learned something about Hong Kong's youth: the strength of their feeling about Hong Kong's political integrity is not to be underestimated.
They also showed they can get organised very quickly and they are willing take more radical measures than the generation that led the Occupy protests five years ago.
What is the extradition plan?
The government of Carrie Lam has proposed amendments to the extradition laws that would allow extradition requests from authorities in mainland China, Taiwan and Macau for suspects accused of criminal wrongdoing such as murder and rape.
The requests would be decided on a case-by-case basis.
The move came after a 19-year-old Hong Kong man allegedly murdered his 20-year-old pregnant girlfriend while they were holidaying in Taiwan together in February last year.
The man fled to Hong Kong and could not be extradited to Taiwan because the two do not have an extradition treaty.
Hong Kong has entered into extradition agreements with 20 countries, including the UK and the US, but an agreement with China has never been reached.
Why are people angry about it?
Hong Kong was a British colony from 1841 until sovereignty was returned to China in 1997.
It is now part of China under a "one country, two systems" principle, which ensures that it keeps its own judicial independence, its own legislature and economic system.
But people in Hong Kong are worried that should the extradition bill pass, it would bring Hong Kong more decisively under China's control.
"Hong Kong will just become another Chinese city if this bill is passed," one 18-year-old protester told the BBC.
Most people in Hong Kong are ethnic Chinese but the majority of them don't identify as Chinese – with some young activists even calling for Hong Kong's independence from China.
For those people, the passing of the extradition bill would be the final nail in the coffin.
Critics of the bill, including lawyers and rights groups, also say China's justice system is marred by allegations of torture, forced confessions and arbitrary detentions.
But Ms Lam's government says the amendments are required to plug loopholes in the law that effectively make Hong Kong a haven for those wanted on the mainland.
She has also said there will be legally binding human rights safeguards.
Credit: Source link